12×16 Storage Sheds for Sale In Oregon
Have you ever stepped into your attic or garage and thought, "Houston, we've got a problem". Then you should definitely consider investing in your own storage shed. And a 12×16 storage shed is a great place to start. 12×16 storage sheds fill the ideal niche between a small garden shed and a large garage. They provide spacious storage space while improving the aesthetics of your backyard space. And if you are wishing for more space inside your home (aren't we all?), then converting a 12×16 into a more personalized shed, like an extra guest room, a she shed or a man cave, is a great idea.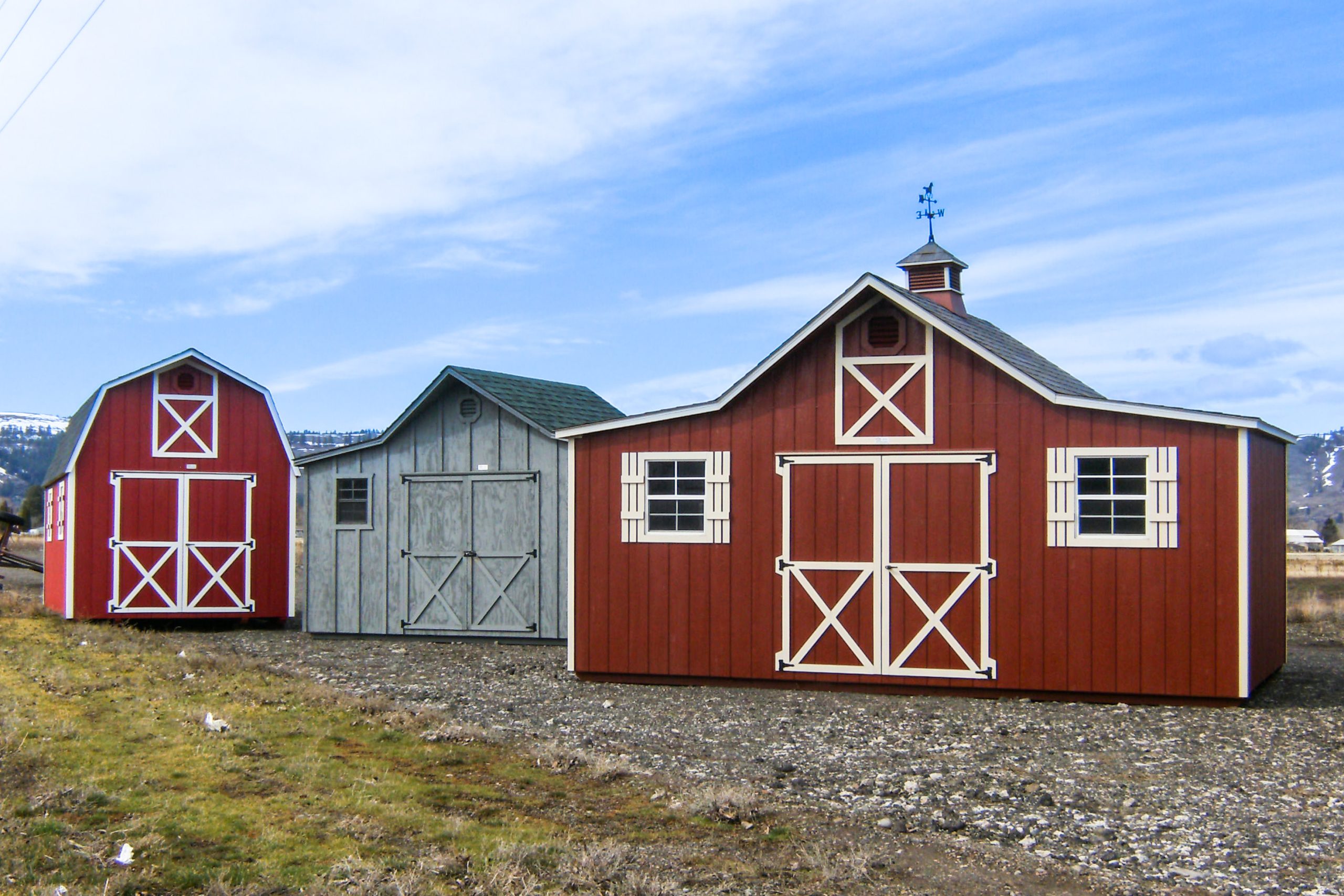 What Are the Ideal 12×16 Storage Shed Uses?
Beyond the original purpose of a storage shed, there are lots of creative ways to use 12×16 storage sheds. Below, you'll find a number of fun and creative ways to use your 12×16 storage shed. But the best part about it, it's totally up to you exactly how you want to use your storage building.
Tiny Cabin
Put a 12×16 shed by your favorite lake or up in the mountains and convert it into a rustic tiny cabin for a practical and fun place to stay, whether it's for hunting season or simply a vacation to the mountains in the middle of the summer.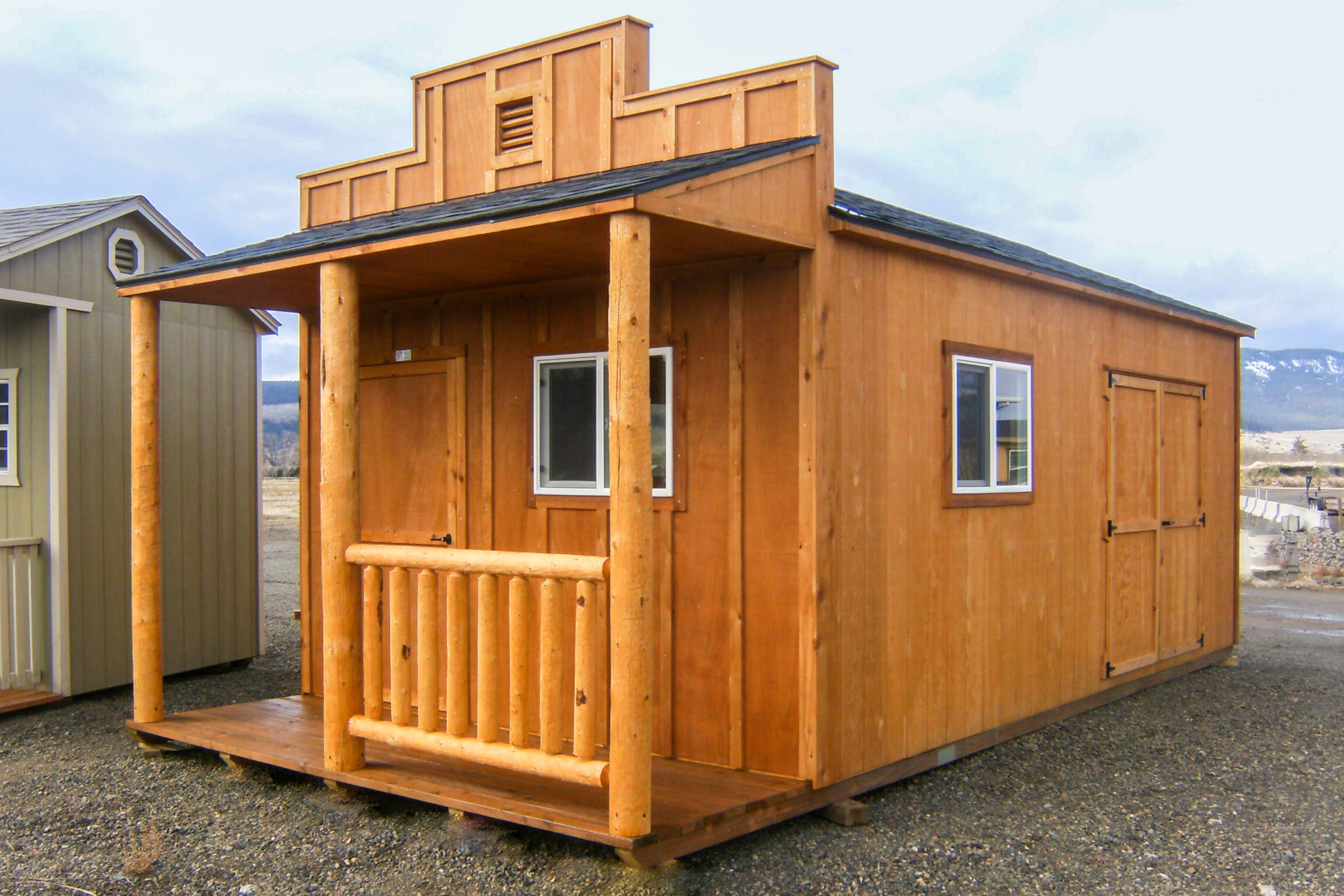 Guest Bedroom
One of the easier shed conversions is creating a small finished room out of your shed. Whether you need a guest bedroom, or something more specific, a 12×16 shed is a great option.
Office
With more people than ever working from home, creating your own personal home office space outside your house is a lifesaver, and who wouldn't want a personal 12×16 shed office?
Potting Shed
If you have a green thumb and enjoy growing things, then using a 12×16 storage shed as your own garden or potting shed is a very practical and simple way to make the most of your backyard, plus giving you and your plants the space to thrive.
Gym
Would you like to get your workout in but don't feel like driving to the gym every day? Get a 12×16 shed and easily turn it into your own home gym. Keep yourself in shape and improve the value of your home with one simple building.
What Can You Fit in a 12×16 Storage Shed?
A 12×16 storage shed has approximately 192 square feet of floor space, which can easily fit a large lawn mower, your snow blower, weedeaters, gas cans, rakes, shovels, and hoes. And you'll still have plenty of room for a workbench and shelving all around.
What Is The Price of a 12×16 Shed?
The price of a basic gable 12×16 storage shed starts at $6,429.00. This price will vary depending on both the style of shed you choose as well as the options you choose to include with your building. The more common options include upgraded doors, adding windows, paint or stain, metal roofing, and insulated floor.
| | | |
| --- | --- | --- |
| 12×16 Shed Style | Assembled Price | Building Kit Price |
| 12×16 Gable Shed | $6,429.00 | $4,829.00 |
| 12×16 Mini Barn | $6,449.00 | $4,779.00 |
| 12×16 Quaker Shed | $6,579.00 | $4,939.00 |
| 12×16 Lean-To Shed | $6,749.00 | $5,029.00 |
| 12×16 Garage | $7,399.00 | $5,789.00 |
| 12×16 Animal Run-In | $7,989.00 | N/A |
| 12×16 Tall Barn | $7,999.00 | $5,859.00 |
| 12×16 Western Barn | $8,729.00 | N/A |
*prices are subject to change without notice. please contact us for an up-to-date quote.
Storage Sheds for Sale in Oregon | Featured Sheds
Here at Countryside Shed, we offer a wide variety of storage sheds for sale in Oregon and the surrounding areas. From the most basic gable shed, to the aesthetically pleasing Quaker style shed, and the rustic Western barn, plus a few more in between. Here are a few more details about some of our more popular shed styles.
12x16 Gable Wood Shed
The gable shed has a simple design, with a basic roof style. But don't let simplicity distract you from the potential and beauty of this shed. The base price for a 12x16 gable shed is $6,429.00.
Comes in sizes from 8x8 to 14x28.
Hand-Crafted 43″ Wide Door
Black hardware.
12x16 Quaker Garden Shed
The Quaker Shed features a unique truss design harking back to Colonial America yet still wows today. The base price for a 12x16 Quaker shed is $6,579.00.
Comes in sizes from 8x8 to 14x28.
Lots of headroom
Hand-Crafted 43″ Wide Door
12x16 Tall Barns
The Tall Barn shed has the traditional Gambrel-style roof but with lots of extra headroom, hence the "tall" in the title. The Tall Barn will give you even more space without increasing the footprint. The base price for a 12x16 Tall Barn shed is $7,999.00.
Comes in sizes from 10x12 to 12x24
Roomy loft
Hand-Crafted 43″ Wide Door
12x16 Western Barn Shed
The Western Barn is a throwback to the old wild west with a country-style roof. This is usually a large shed, but looks great and provides lots of room to meet whatever needs you to have. The base price for a 12x16 Western Barn is $8,729.00.
Comes in sizes from 8x16 to 14x24
Traditional Country-Style Roof
Hand-Crafted 43″ Wide Door
Specialty Custom Buildings
We also offer custom buildings. If there is a specific size building or a style that we haven't mentioned, we would love to hear about it and make your specialty building dream become a reality. If you have a specific spot you would like to have your shed, but it doesn't work to have a prefab shed delivered, we also offer on-site builds in some cases.
Financing Options for Your 12x16 Storage Shed
While purchasing your own 12x16 storage shed may sound like an expensive proposition, there are options available that make financing your shed a plausible idea. A popular route is our Rent-To-Own option. And while purchasing a building via the rent-to-own option will cost you more money in the long run, it does give that much needed storage space, and it could actually save you money if you would have to rent another storage unit in the meanwhile.
How does it work? When you sign up for our rent-to-own option, with a reasonable downpayment, you can get your shed, and continue making low monthly payments until your shed is paid off, at which point the shed is yours. If you can pay off your shed in 90 days, your price will be the same as paying cash!
Looking for Another Sized Shed?
While a 12x16 shed is an ideal size, it might not be right for you. We offer lots of different sizes of sheds, starting as small as 8x8 all the way up to 14x32, including the popular 12x16 storage shed. So whether the 12x16 is the size for you, or you are in need of something a bit different, Countryside Sheds has a lot to offer.
12x16 Storage Sheds For Sale in Oregon
So whether you are looking for a simple storage solution, or want to convert your shed into a home office, or a guest bedroom, you should consider a 12x16 storage shed from Countryside Sheds.