12x20 Sheds - Customizable 12x20 Sheds in Oregon
Are looking for about 240 square feet of perfect space? A 12×20 shed fits the bill quite perfectly! While a 12×20 shed offers you a larger sized shed, its size does not overwhelm. Plus, if you are dreaming big, a 12×20 shed can handle those big dreams like nobody's business! 😊
Did you know that a 12×20 shed is one of the most popular larger-sized sheds around? Thanks to its perfect balance of space and versatility of use, the 12×20 shed is a favorite.
If you are already sold on a 12×20 shed, or if you are simply doing your homework for the right shed size for you, read on to discover more about the adored 12×20 shed.
Let's cover its ideal space uses, the best building route to your 12×20 shed, and some gorgeous, all-ready to-go 12×20 sheds available from Countryside Sheds!
Let's get to it!
Ideal Ways to Use Your 12x20 Shed
Truth be told, almost any size of the shed could work for the following, however, this is where the perfection of a 12×20 shed shines brightly!
Its 240 square feet of space offers you a structure that is not too big or not too little. You can enjoy having enough space to do what you enjoy or store what needs to be stored while still retaining a minimalistic feel and presence.
The following ideal ways to use your 12×20 shed will not disappoint!
She Shed
Mancave
Potting Shed
Garden Equipment Shed
Storage Shed
Playhouse
Hobby Workshop
Home Office
12x20 Sheds – DIY, Kit, or Prebuilt?
With the purpose of your 12×20 shed nailed down, let's consider what building route works best with your time, budget, and carpentry skills.
Take a moment to look at the pros and cons of a DIY, Kit, or Pre-built 12×20 shed.
Each Building Routes' Pros & Cons
Remember to factor in your time, budget, and carpentry skills as you consider if the pros outweigh the cons in your specific situation.
DIY 12x20 Shed - Pros & Cons
👍
Pros of 12×20 DIY Sheds
Possibly the cheapest route.
Provides an opportunity to learn or sharpen your carpentry skills.
You can custom design your shed however you wish.
Sharpens your organizing, planning, and shopping skills.
Enjoy the pride of a job completed by your own hands.
👎
Cons of 12×20 DIY Sheds
Requires at least general to adequate construction knowledge.
Higher potential for measurement errors or building mistakes.
Patience is a necessity.
Work can be inhibited by bad weather.
Requires a lot of time with planning, shopping, sit prep, building, etc.
Kit 12x20 Shed - Pros & Cons
👍
Pros of 12×20 Kit Sheds
Saves time compared to DIY, thanks to all the necessary pieces included in the kit.
Easier for beginner carpenters since most of the pieces are pre-cut to precise measurements.
Provides an opportunity to work with buddies or family in its assembly.
Usually cheaper than pre-built sheds.
👎
Cons of 12×20 Kit Sheds
Time is still required to prepare the site, assemble, and paint the shed.
Work can be inhibited by bad weather.
Requires at least general construction knowledge.
Prebuilt 12x20 Shed - Pros & Cons
👍
Pros of 12×20 Prebuilt Sheds
Saves you TIME! No significant planning, shopping, and zero building.
Professionally built with precise measurements and quality materials.
Weather does not affect the building process.
No mess from construction in your backyard.
Lasts you a lifetime of use!
No construction skills required.
Even in a remote location, the on-site build is usually available upon request.
👎
Cons of 12×20 Prebuilt Sheds
Can be the most expensive building option.
May be limited when it comes to extremely unique customization ideas.
What are the 12x20 Shed Price Comparisons – DIY, Kit, and Prebuilt?
12×20 Sheds for Sale in Oregon
Now let's get a general idea of the basic 12×20 shed costs if you go either the DIY, kit or pre-built route. Keep in mind that the style and special customization will increase the price of each of the following.
DIY – $3,000
Kit – $3,500
Prebuilt – $5,499
If you discovered your best option due to time, budget, and skills, is a prebuilt 12×20 shed, enjoy choosing from 7 different styles! Your dream shed might be sitting right below!
Get Your Ideal 12x20 Shed Today! Countryside Shed's 12x20 Shed Prices & Styles!
$5,499
Gable Sheds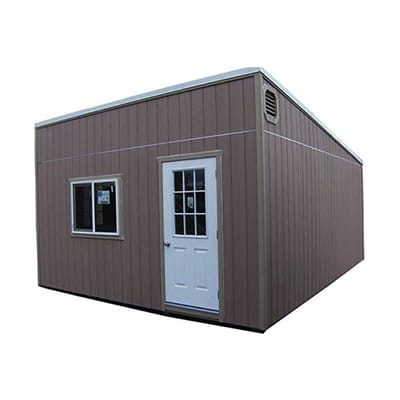 $5,839
Lean-To Sheds
$5,459
Mini Barns
$6,799
Tall Barn w/ Loft
$6,899
Western Barn
$5,639
Quaker Sheds
Interior & Exterior Options for Your 12x20 Shed!
When it comes to partnering with Countryside Sheds for your 12×20 Shed, you have options! The following offers you a glimpse into the options available for your new shed. Nothing ever began without dreaming first!
The above offered you a taste of the available options awaiting your new shed. More awaits! Discover the rest by checking out Construction and Options.
Frequently Asked Questions & Their Answers
Partner with Countryside Sheds for Your 12x20 Portable Shed!
Are you ready to own a 12x20 shed?
If so, you can begin the exciting shed-buying process today!
If you are ready to enjoy a perfect space for creativity, enjoyment, storage, or relaxation, no need to wait any longer.
Countryside Sheds stand ready and equipped to empower your discovery of the right 12×20 shed for you and your space needs.
Your perfect space awaits!