These Oregon garden sheds are prebuilt to serve your needs as storage sheds, workshop sheds, and more.
Features of the Quaker Garden Shed
Lots of Headroom
Saltbox-Style Roof (Off-Centered Peak)
Sizes from 8′ × 8′ to 14′ × 32′
In-Stock Quaker Garden Sheds For Sale
Why Quaker Storage Shed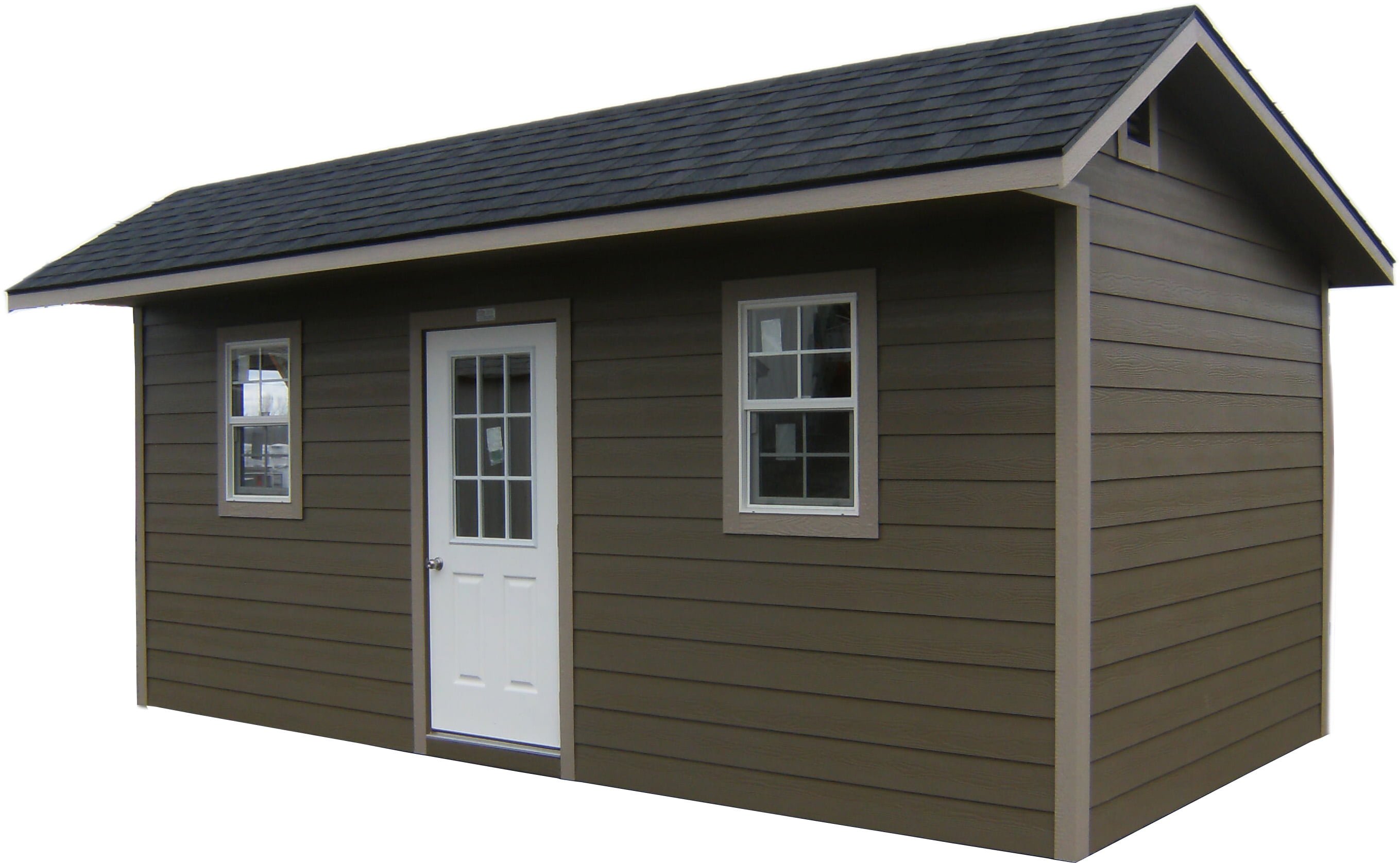 This Quaker style garden shed gets its name from the unique styled roof that it has. In the 1600's in Colonial America, this style house became famous as a way to reduce taxes since the long sloping roof often was considered part of the first floor. Designed after the small boxes where most people stored their salt, this style was popular and common until the 1800s.
Characteristics of Quaker Shed:
Roof Overhang in the Front
Salt Box Style Roof
Colonial Style Appearance
Quaker Storage Shed
Like the rest of our storage sheds, this garden shed is practical and useful to store any of your possessions (especially tools for your backyard garden). With the unique roof design, there is some extra storage space overhead. Also, with the door on the side, you can quickly enter and see where all your equipment is. No matter what you store inside your Quaker shed, this sturdy garden shed will keep your belongings safe for years to come.
Quaker Shed Storage Ideas:
Lawn Equipment
Garden Tools
Sports Equipment
Camping Equipment
Workshop/Studio Shed
If you are looking for a simple, stylish shed or workspace, the Quaker shed is attractive and spacious. With the unique saltbox style roof, this garden shed is different yet practical. With numerous customizable options, you can make this shed fit your personality style and backyard space! Use this garden storage shed in your backyard for your place to hang out and work on your favorite hobbies! Or if you prefer a simple, modern appearance, check out our lean to sheds.
Quaker Shed Ideas:
She Shed
Art Studio
Workout Space
Hobby Workshop
A Quaker Shed for Generations
Let the past speak to your future with these historic quaker-style sheds. This is an iconic and economical side-facing shed. An off-set roof peak and a large eave overhang on the side of this iconic garden shed make it practical to use as well as aesthetically pleasing in your backyard!
For other styles of sheds, check out our gable, western, or modern lean to shed!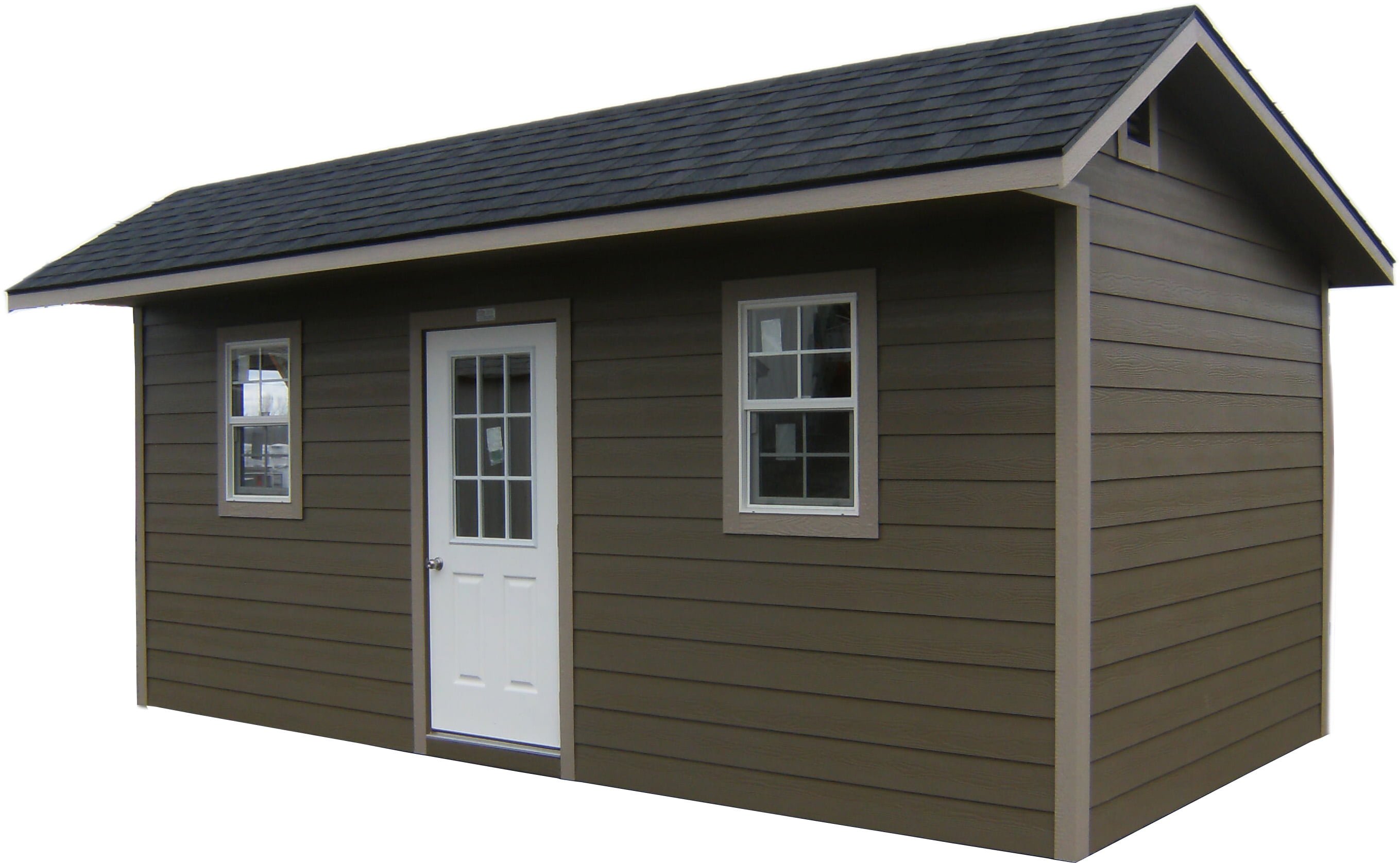 Portable Quaker Shed Prices
| | | |
| --- | --- | --- |
| Quaker Shed Size | Assembled Quaker Shed Price | Quaker Shed Kit Price |
| 8×8 Garden Shed | $3,059.00 | $2,259.00 |
| 8×10 Garden Shed | $3,449.00 | $2,639.00 |
| 8×12 Garden Shed | $3,899.00 | $2,959.00 |
| 8×16 Garden Shed | $4,589.00 | $3,499.00 |
| 8×20 Garden Shed | $5,529.00 | $4,329.00 |
| 8×24 Garden Shed | $6,159.00 | $4,859.00 |
| 10×12 Garden Shed | $4,829.00 | $3,649.00 |
| 10×16 Garden Shed | $6,969.00 | $4,399.00 |
| 10×20 Garden Shed | $6,729.00 | $5,239.00 |
| 10×24 Garden Shed | $7,649.00 | $6,029.00 |
| 10×28 Garden Shed | $8,599.00 | $6,849.00 |
| 10×32 Garden Shed | $9,529.00 | $7,639.00 |
| 12×16 Garden Shed | $6,579.00 | $4,939.00 |
| 12×20 Garden Shed | $7,589.00 | $5,769.00 |
| 12×24 Garden Shed | $8,679.00 | $6,679.00 |
| 12×28 Garden Shed | $9,669.00 | $7,499.00 |
| 12×32 Garden Shed | $10,629.00 | $8,299.00 |
| 14×16 Garden Shed | $7,229.00 | $5,769.00 |
| 14×20 Garden Shed | $8,629.00 | $6,579.00 |
| 14×24 Garden Shed | $9,829.00 | $7,569.00 |
| 14×28 Garden Shed | $10,999.00 | $8,549.00 |
| 14×32 Garden Shed | $12,259.00 | $9,599.00 |
*prices are subject to change without notice. please contact us for an up-to-date quote.
Delivery
Design your shed online, get a free quote, then let us build and deliver your shed.
Financing
Rent to own your shed instead of renting a storage unit across the town and save money.
Preparation
If you need someone to prepare the site for you, we may be able to help with that as well.
Options
We build our sheds same as a contractor builds a house. Add-ons that fit your needs!
See What Others Have Said About Our Quaker Sheds
Features of All Our Storage Buildings
Full 2×4″ Construction
16″ O.C. Stud Spacing, Double Top Plates
Sturdy 4×4″ Pressure-Treated Runners
All Plywood Interior: Solid 3/4″ Flooring, 7/16″ Roof Sheeting
15/32″ Roseburg Duratemp Textured Plywood Siding
Full 2×4″ Trusses
30-Year Architectural Shingles (Other Roofing Options Available)
Screened Gable Vents
Hand-Crafted 43″ Wide Door
Soffit And Fascia Trim
Primed And Caulked
Pre-Built Ready To Use!
Common Upgrades for the Quaker Shed
Gable Roof Extension
5′ or 6′ double door
18×23″ Windows
Side Porch
Metal Roof
Custom Paint
Questions and Answers
How tall is the Quaker Garden shed?
Measurements listed are taken from the top of the ridge cap of the roof to the bottom of the floor runners sitting on the ground. Your final height depends on the elevation of the blocks used on the runners.
Quaker Shed Height:
8′ wide = 9′ 4″ tall
10′ wide = 9′ 11″ tall
Does the Quaker Shed pricing include painting?
Our standard pricing for sheds delivered factory primed and caulked along the vital areas (around the door, vents, eaves, etc.) and ready to paint. We use DURATEMP© plywood siding that comes pre-primed with exterior latex primer. The manufacturer recommends a quality topcoat of exterior paint be applied. Do not use vinyl acrylic exterior paint.
Painting is an optional upgrade on the quaker shed and any of our buildings. Your portable wood shed will be painted with professional paint sprayers and brushes. We can custom match paint to almost everything. Please let us know at the time you place your order for a price quote. Some stock buildings may be painted already.
How do I prepare my site prior to the delivery of the building?
You will need a level spot for the building. If you place your building on cement, asphalt, or gravel you do not need any cement blocks placed under the runners. If you are placing your building over grass or dirt, you may choose to use either cement blocks to place under the runners or prepare a bed of gravel. For more information see site preparation.
Get A Portable Quaker Shed for Your Home or Business
We all want to make the world and our lives more pleasant and beautiful. We can't change everything at once, but we can take small steps towards a more orderly and intentional life that pay big dividends in the end. If a tastefully crafted quaker shed can help you improve your spaces by making your outdoors more orderly, protecting valuable equipment, or expanding into new space for hobbies or special projects, we invite you to partner with Countryside to achieve your goals. Get a free quote online or visit one of our shed lot locations to take the next step towards your own outdoor storage shed.