Ensuring your livestock have shelter to keep them safe from harsh weather conditions is not only important to you but also to your livestock. We know the importance of having a quality-built portable livestock shelter for your horses and other animals. Our livestock shelters are built to last. Our 20+ years of experience gives us the ability to ensure your portable livestock shelter maintains a level of quality that will last for years as you provide a home for your livestock. Our portable horse shelters along with our other shelters can be customized to fit your exact needs. See our portable horse sheds and other portable shelters today to get started on customizing one to fit your exact need.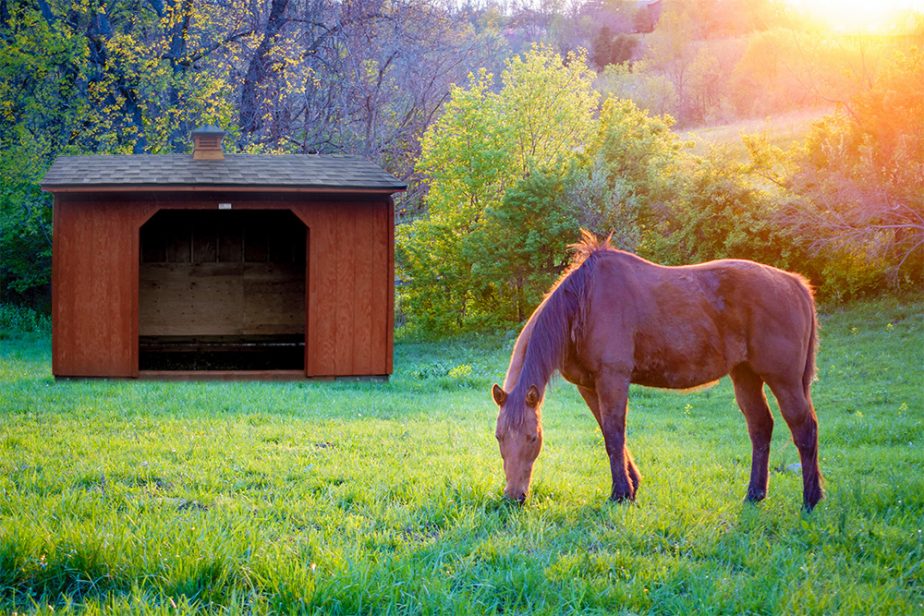 Protect your livestock from inclement weather with our safe and efficient portable livestock shelters built with integrity and with the safety of your livestock in mind. Of our many portable livestock shelters, our Animal Run-Inn loafing shed offers a number of unique features that promote its durability to withstand harsh weather while providing a safe shelter for your animals. See below the unique features of our Animal Run-Inn Loafing shed and get started on customizing your own shed today.
Standard Features of the Animal Run-Inn Loafing Shed
No Floor
Built on 6×6 Pressure-treated Frame
Reinforced Steel Corners
Hooks for Moving
Portable Horse Shelters Features & Options
Features of all our Animal Shelters
Full 2×4″ Construction
All Plywood Interior: Solid 3/4″ Flooring, 7/16″ Roof Sheeting
15/32″ Roseburg Duratemp Textured Plywood Siding
Full 2×4″ Trusses
30-Year Architectural Shingles (Other Roofing Options Available)
Soffit And Fascia Trim
Primed And Caulked
Pre-Built Ready To Use!
Options for your Horse and Shelter
Get exactly what you and your horses need from a loafing shed. Customize your horse shelter to fit your property and tastes, as well as suit the temperaments and personalities of your horses. All of the following features are yours for the choosing with your own Animal Run-Inn:
Single or Double-Wide Sizes
Optional Partition Wall Between Stalls
Closed-In Tack Room: Store feed, tack, and other supplies.
Kickplate: 1/2″ Plywood Lining
Stain-Grade Siding and Trim
Cupola and Weathervane
Portable Animal Shelter Features
We provide a number of unique options with our portable animal shelters that will benefit you as you choose what type of animal shelter you need for your livestock. We want to make the buying process easy for you as you seek to purchase your portable animal shelter. We offer the following features with our portable animal shelters.
Shelter for a Variety of Animals: Our portable animal shelters can provide shelter for a variety of animals including horses, sheep, chickens, goats, lamas, cattle, and other animals you might have.
Free Delivery: We offer free delivery to areas in Northeast Oregon and Southeast Washington including Dayton Washington, Wallowa Oregon, Joseph/Enterprise Oregon, Sumpter Oregon, and any areas surrounding our shed lot locations.
Financing/RTO Options: We offer financing options for our portable livestock shelters so that purchasing an animal shelter can be affordable for you. Check out our financing options today.
Our portable animal shelters are carefully built by craftsmen with over 20 years of experience in the shed building industry, therefore ensuring the high quality of our sheds. Not only do your animals need a portable shelter for times of harsh weather, but you also need a portable animal shelter that you can trust to provide shelter for your livestock. Our portable animal structures are made durable and built with a level of quality that reflects our 20+ years of experience in the shed building industry.
Don't wait 'till it's too late: Buy a Horse Shelter
There's an Animal Run-Inn that's perfect for your horses or cattle. Chances are, it's not built yet, but we can turn that around a very short period of time. Get a quote for a loafing shed that will serve both you and your livestock for years to come.