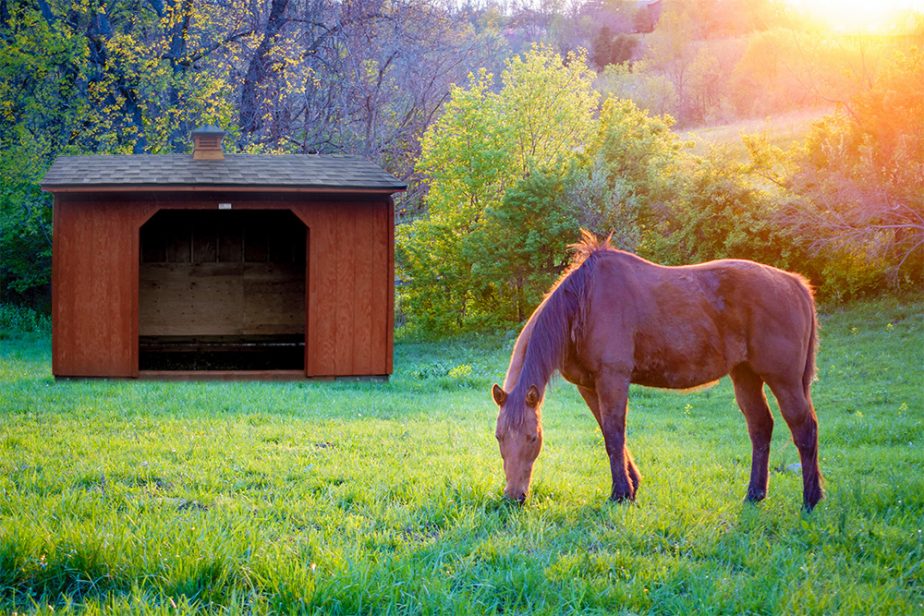 Protect your horse or cattle from inclement weather with on-demand shelter using a safe and efficient loafing storage shed.
Standard Features of the Animal Run-Inn Loafing Shed
No Floor
Built on 6×6 Pressure-treated Frame
Reinforced Steel Corners
Hooks for Moving
Portable Horse Shelters: Always-available Livestock Protection
Inclement weather can really give a beating to your livestock. Give your horses, sheep, goats, lamas or other cattle a break from harsh elements with their own dedicated Inn: The Animal Run-Inn horse shelter from Countryside Structures.
We deliver these loafing sheds to happy customer all across Oregon and Southern Washington.
Animal Loafing Shed: A Good Idea Now and In the Future
When you buy an Animal Run-Inn from Countryside, you aren't buying a permanent building, but you are buying a long-term solution. This is a portable horse shelter, and can be easily moved with a tractor around your property wherever you choose at any time using the built-in moving hooks.
Features of all our Animal Shelters
Full 2×4″ Construction
All Plywood Interior: Solid 3/4″ Flooring, 7/16″ Roof Sheeting
15/32″ Roseburg Duratemp Textured Plywood Siding
Full 2×4″ Trusses
30-Year Architectural Shingles (Other Roofing Options Available)
Soffit And Fascia Trim
Primed And Caulked
Pre-Built Ready To Use!
Options for your Horse and Shelter
Get exactly what you and your horses need from a loafing shed. Customize your horse shelter to fit your property and tastes, as well as suit the temperaments and personalities of your horses. All of the following features are yours for the choosing with your own Animal Run-Inn:
Single or Double-Wide Sizes
Optional Partition Wall Between Stalls
Closed-In Tack Room: Store feed, tack, and other supplies.
Kickplate: 1/2″ Plywood Lining
Stain-Grade Siding and Trim
Cupola and Weathervane
Don't wait 'till it's too late: Buy a Horse Shelter
There's an Animal Run-Inn that's perfect for your horses or cattle. Chances are, it's not built yet, but we can turn that around a very short period of time. Get a quote for a loafing shed that will serve both you and your livestock for years to come.