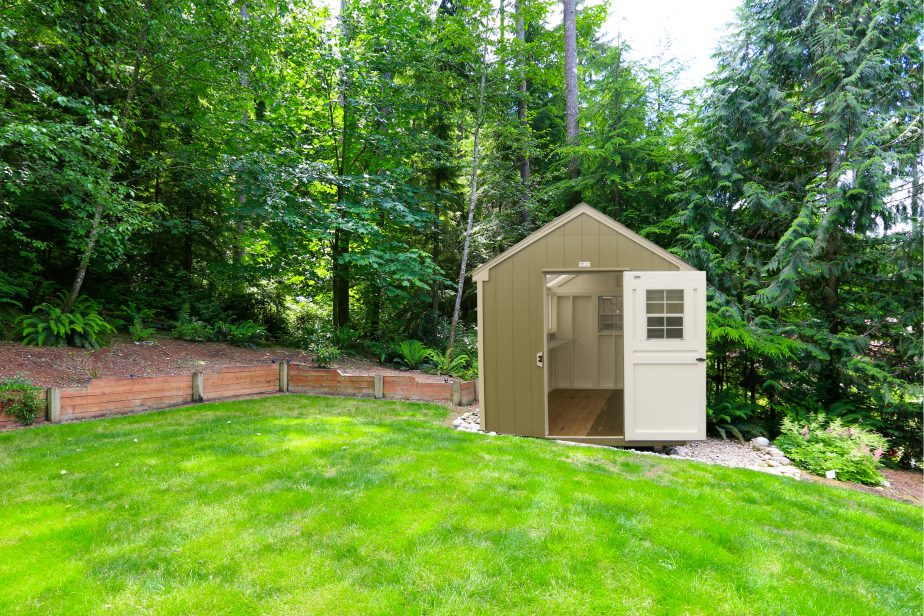 A convenient protected growing area.
Features of the Greenhouse
A-Frame w/ Minimal Overhang
Light-Diffusing Roof and Side Panels
Sizes from 8′ × 8′ to 14′ × 28′
Extra-Wide 43″ Door
Front and Back Windows
Our Greenhouse is More than Just a Shed!
The portable greenhouse shed from Countryside is an incredibly durable and compact backyard greenhouse that comes with some BIG benefits. Whether you need a nursery for germinating new plants, or a place to grow flowers and herbs year round, we believe you'll love having your own protected growing area. Our portable greenhouses can withstand many kinds of weather conditions that would otherwise wreck a cheap green house or kill your delicate plants, be it strong winds, snow, and many other harsh weather conditions. Your plants will thrive in our portable greenhouse. A greenhouse is a simple way to grow food in your own backyard!
Sunlight. Even better.
Diffused Light = Better Growing.
The translucent and light-diffusing panels on the sides and roof of the greenhouse shed are engineered both to allow and even enhance the transmission of sunlight to your plants. By diffusing the sunlight, the young plants are protected from harsh direct rays from the sun.
Furthermore, according to Greenhouse Magazine, diffused light "will penetrate deeper and more uniformly into the plant leaf surfaces. This allows more of the leaves to be productive photosynthesis generators. It is most effective on tall crops such as tomatoes, cucumbers, roses and for vertical growing. Getting light to the lower leaves has shown to increase growth and yield of vegetables by 5 percent or more. It can also increase flower production. Diffused light can also reduce scorching, lower container temperature, reduce fungal spores and decrease insect propagation." Clearly, diffused light is a big win for plant growers.
Learn more about benefits of growing your own food with a portable greenhouse!
Strategic Exposure
A win for your plants, and your wallet!
Unlike a traditional greenhouse, which has a light-transmitting layer across the entire structure, the greenhouse sheds from Countryside let the light in where it's shining, and keep the weather out where the sun is not. This ingenious approach to greenhouse structure saves energy and maintenance cost when compared to greenhouses with a complete light-transmitting layer.
With the translucent side of the greenhouse facing south, the sunlight panels will allow light transmission from sunrise to sunset, while guarding the darker side with materials that better protect the growing environment against wind, heat, and cold. This also means lower cost of replacing panels if they become too dirty or worn.
Features of all our Storage Buildings
Full 2×4″ Construction
16″ O.C. Stud Spacing, Double Top Plates
Sturdy 4×4″ Pressure-Treated Runners
All Plywood Interior: Solid 3/4″ Flooring, 7/16″ Roof Sheeting
15/32″ Roseburg Duratemp Textured Plywood Siding
Full 2×4″ Trusses
30-Year Architectural Shingles (Other Roofing Options Available)
Screened Gable Vents
Self-Latching Hand-Crafted 43″ Wide Door
Soffit And Fascia Trim
Primed And Caulked
Pre-Built Ready To Use!
Upgrades for the Greenhouse Shed
18×23″ Windows
Cupola or Weathervane
Electrical Package (outlets, ceiling light)
Metal Roof
Custom Paint
Questions and Answers
What is the weight of the Greenhouse?
The weight of our greenhouse shed varies depending on the options chosen, but a here's a "ball park" reference:
8′ × 10′ Greenhouse = 1700 pounds
8′ × 12′ Greenhouse = 1800 pounds
10′ × 12′ Greenhouse = 2425 pounds
10′ × 16′ Greenhouse = 2950 pounds
How tall is the Greenhouse Shed?
Measurements listed are taken from the top of the ridge cap of the roof to the bottom of the floor runners sitting on the ground. These heights don't include the elevation of the blocks used on the runners.
Gable Shed Height:
8′ wide = 9′ 9″ tall
10′ wide = 10′ 10″ tall
12′ wide = 11′ 4″ tall
14′ wide = 11′ 8″ tall
Give your Backyard Garden a Boost!
Nurturing plants benefits the mind, body, and soul. Whether or not you have a "green thumb" you'll benefit from a convenient protected area for starting and nurturing herbs, flowers, and even vegetables. We'd love to help you achieve your dreams for a backyard greenhouse. Get in touch with us for a quote or visit one of our locations to get started.