10×10 Sheds – DIY, Kit, or Pre-Built?
A new shed purchase looms in front of you. Perhaps it is disorganization or limited space that has pushed you into the discovery of a new shed. Whether it's your small backyard or minimalist lifestyle that inspires you to investigate a 10×10 shed, you can say adios to the ominous feelings surrounding that final decision on the right route to your 10×10 shed.
At Countryside Sheds we understand how important it is to feel great about your final decision, and we feel confident to walk you through the process of figuring out the following questions.
• Is a 10×10 shed right for me?
• Can I afford it?
• Should I build or buy?
• What are the differences between complete DIY, kit build, and prefab?
And more!
To answer the above questions let's dig first into the essentials.
Why a 10x10 Shed Might Be the Perfect Fit
A 10X10 Shed is a classic size. Although more on the small side of sheds, this shed might be just right for you if your space needs pair with any of the following.
You own a small backyard. Limited yard space is conducive for small sheds, like a 10×10. It is more aesthetically appealing to have a small shed in a small yard than trying to squeeze in an oversized shed.
You want to avoid hoarding. Large spaces only encourage more paraphernalia, a small shed provides a very focused space for storing essential storage, tools, and hobby gear. Clearing out the clutter = Stress-free life!
You need a specific space for a side hobby. A 10X10 shed makes a perfect and cozy space for potting, a reader's lounge, a painting studio, or a small workshop.
You need basic storage. Perhaps you are just looking for storage for your lawn care equipment, or Christmas decorations.
What Can You Fit in a 10x10 Shed?
Utilize the following space-saving tips.
A 10×10 shed is small, however, it can comfortably store the following items:
A small lawnmower or ATV
A few bicycles
A wheelbarrow
Garden tools
When trying to assess what all you can fit into a 10×10 shed, incorporating space-saving tips contributes greatly to the organization and efficient use of the space allotted by a 10×10 shed.
How Much is a 10×10 Shed?
The price for a 10×10 shed varies according to your choice of assembly, whether you go the DIY, kit, or prebuilt route. Let's layout the projected prices for each building route. For example, we will go with the Gable Style from Countryside Sheds to compare the prices for both a shed kit and a pre-built shed. We will be comparing the following choices:
DIY 10×10 Shed
10×10 Gable Style Shed Kit
Prebuilt Gable Style 10×10 Shed
DIY 10x10 Shed
The average cost for the construction of a DIY shed as shared by DIY Enthusiast, Eugene Kokol, runs anywhere from $17 to $24 per square feet.  So, with the projected price per square feet, a DIY 10×10 Shed would cost anywhere from $1,700 – $2,400. Keep in mind that this is the projected cost of the base materials. Painting, windows, and special customizations will cost more as well. Especially if you are new to DIY projects, factor in the cost of time as well. Time is money, however for some DIY lovers, building a shed would be a delightful pastime.
10x10 Gable Style Shed Kit
If you love building, but do not like doing all the work of gathering materials consider a shed kit. If you are committed to a shed kit, then the price will around $2339.00. The kit includes the base building, unpainted, shingle roof, and a single 43" door. The addition of windows to your kit is available at 79.00 apiece. This price does not include a paint job. You will need to paint your shed once you put the kit together. As with a DIY project, you will want to factor in the time it will take to assemble and paint your kit.
Prebuilt Gable Style 10x10 Shed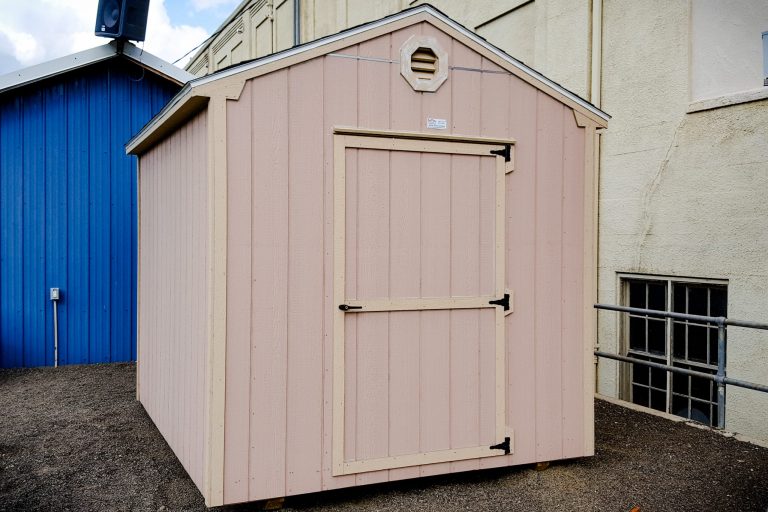 The cost of a 10×10 Gable Style Building is $3,086.00*. This includes the base building, unpainted, shingle roof, and a single 43" door. No other options are included in that price. If you wish to have your shed painted, the additional price will be $462.00 If you wish to add windows, 2 – 24×27 single hung aluminum windows cost $79.00 a piece.
The truth of the Costs
A shed is going to cost you whether you go DIY, Kit, or Pre-built. Especially so, if you want your shed to be built with quality materials, carefully, and end up lasting years. Consider the advantages of a pre-built vs. a shed kit or DIY, as you now determine which route is the best option for your new 10×10 shed.
Advantages of a 10×10 Pre-built Shed Vs Shed Kit or DIY
Narrow down which route is the right one for you with the following advantages of each construction method.
Advantages of a Countryside Shed Kit
Saves money compared to pre-built sheds
Saves time compared to DIY, since all its materials are included in the kit.
Provides an opportunity for working together with friends and family
Allows you to utilize or develop carpentry skills without the stress of figuring out all the necessary measurements and cuts.
Advantages of a DIY Shed
Ideal if you want a size of shed that is not available from a Shed company.
You love the planning, shopping, and building incorporated in a DIY shed.
Provides an opportunity for working together with friends and family to complete the project.
Maybe the cheapest route if you have carpentry skills and lots of time.
Advantages of a Countryside 10×10 Prebuilt Shed
You do not have to worry about whether you are getting the right materials for the shed you are envisioning.
You do not need to worry about whether your skills are great enough to assemble a kit or make one from scratch.
You do not need to take time off work or out of your weekend to put your shed together.
No mess (sawdust, cut off pieces.)
Probably going to be built stronger and more precisely than a DIY would be.
Stock buildings can usually be delivered within a week instead of waiting for a kit to be built.
Our buildings and kits do not use cheap materials. These are premium quality materials combined with premium building standards which result in premium quality buildings.
Even with a remote or inaccessible location, an on-site build is an option
How to Build a 10x10 Shed Kit?
If you are convinced that a shed kit is your building route to your 10×10 shed, take a moment to understand what all is in a Countryside Shed Kit and discover why it's an ideal package.
What do You get Inside the Kit Package?
All flooring material (floor runners, floor joists, sheeting) – cut to size.
All wall framing material (top/bottom plates, pre-cut wall studs, etc.)
Wood Siding
Pre-built trusses
All roofing material (pre-cut sheeting, felt, drip edge, shingles, etc.)
Pre-built custom door and any necessary hardware
All auxiliary trim, gable vents, hardware, etc.
All caulking, roof tar, nails, screws, etc.
Only the Wood Siding comes with Pre-Cut exterior siding.
We even mark the top and bottom plates where the studs go, build the headers and cripples for you, build the vents and doors. We even color-code the wall and floor framing material so you will know what goes with what.
Directions on How to Build a 10x10 Shed with A Shed Kit
You are not left hanging with just the kit. Along with the kit, we provide you with an illustrated Kit Assembly Guide. However, it is understood that you will have general construction knowledge of proper building techniques. Get more details about your instructions by checking out our Storage Shed Kits.
This Is how Your 10x10 Shed Will Be Delivered!
Partner with Countryside Sheds
Bring Your 10×10 Shed Home!
Whether you want to build your own or want to buy a prefab 10×10 shed, Countryside Sheds is at your service! We are equipped and ready to help you walk through the process of figuring out which one is best for you.
Partner with Countryside Sheds today and bring your 10×10 shed home!