Small Cabin Living: Creative Space Ideas for Small Cabins
Fresh Air. The scent of pines and cut wood. Nature's backyard. Tranquility. Freedom from stress. The list could go on. Peaceful daily existence. Outdoor adventures. Wildflowers. Beautiful therapeutic scenery.
Not since the early pioneer days has small cabin living beckoned with such a strong magnetic pull! Small cabin living, not to mention tiny homes, are opening a new way of living life that is not only attractive, but also life-changing amid our fast-paced, consumer society. You may have caught yourself wondering, "There has got to be more to life than this daily rat race that consumes most of my waking hours."
Why Small Cabin Living Matters
The good news is that there is a way to enjoy life more fully and there is a place where time can slow down. A spot where time fills you with what is most meaningful and lasting. Allow yourself to imagine and dream of a small cabin where you can close the door on the bustling outside world and open another that will feed your soul, refresh your spirit, and rejuvenate your full existence.
Small cabin living offers you just that!
Now, explore some small cabin, tiny house living and get a taste of the beauty and gift of small cabin living.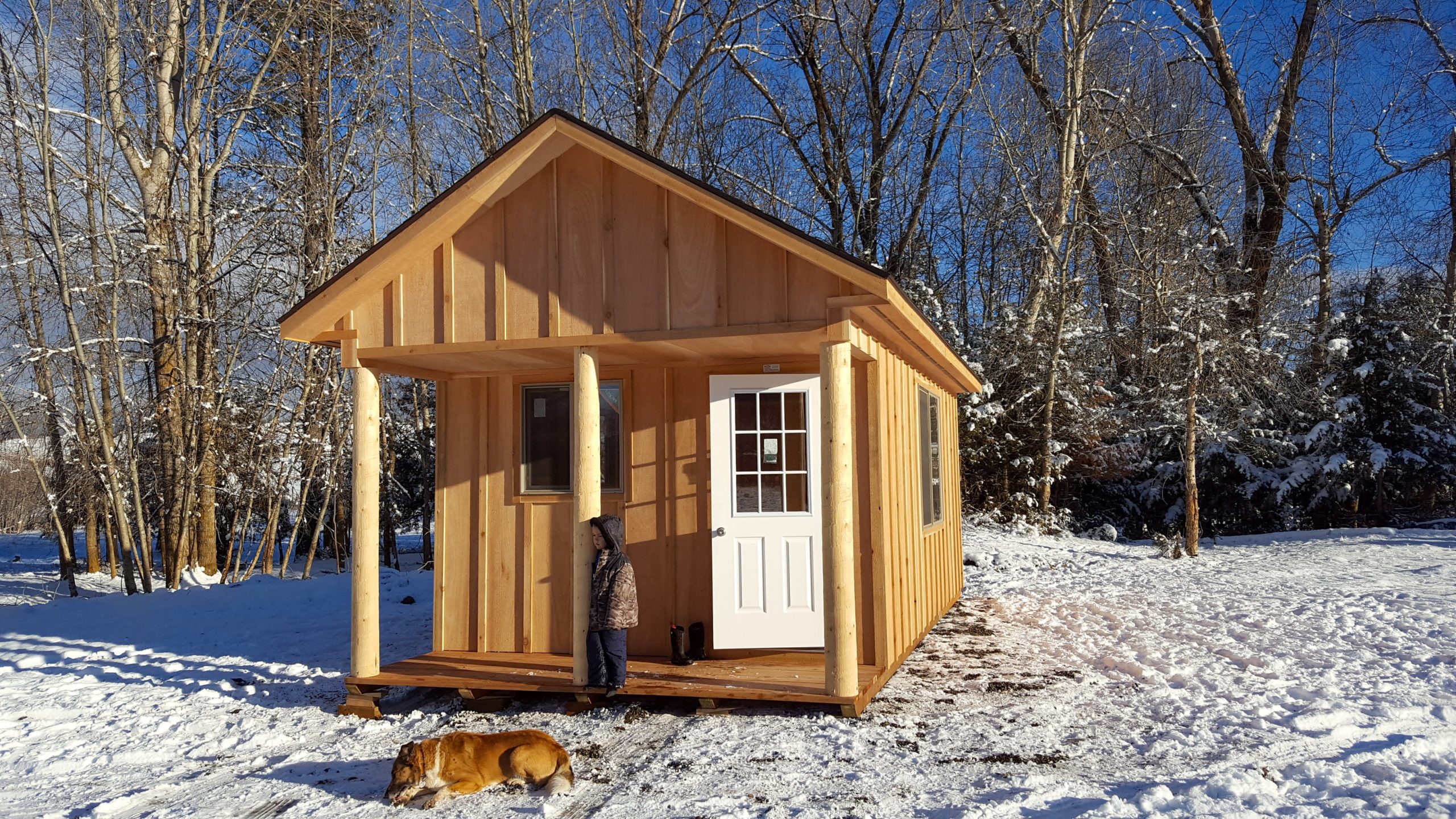 Tiny Cabin House on Wheels
Small cabin living hosts many opportunities. This was certainly the case for a woman named Jenna, known as the "Tiny House Girl". Jenna, inspired by a vision to live simply and free from the pull of societal pressures, in order to pursue traveling and writing, invested in a tiny cabin home.
A tiny cabin home on wheels! Jenna constructed her tiny house with the help of friends and a year later her small home was ready to hit the road. During the first year of the small cabin's life, it traveled over 25,000 miles all the way from the Arctic Circle down to the Florida Keys. Jenna recognizes and shares openly on her blog, Tiny House, Giant Journey, the value and gift that small home living provides to the one willing to embrace its freedom. Jenna feels strongly that you don't need a huge home to be happy. Owning a small space and knowing how to utilize its room, allows you to enjoy what really matters in life. Jenna is passionate about small home living and for good reasons. Why live in debt owning a huge home or cabin which inevitably only drags you down deeper into debt as you fill it with even more material items, when you can go small and live free?
Check out Jenna's tiny cabin home for yourself and take in her creative ideas for making her small living space cozy and comfortable.
Small Cabin Living in Wyoming
Small cabins hold the answers to the yearnings of many who desire to experience life more fully. Megan's family discovered this to be true when both her and her husband decided to move out of the big city and cross country to live in a small one room cabin. Even though Megan and her husband had great jobs and they enjoyed a spacious apartment, they desired to give their son something that is hard to achieve amid a busy city life. The call for their family to move was not solely inspired by the actual cabin structure, but rather what small cabin living can offer. Megan and her husband desired a slower paced and simple life. They wanted to raise their son in that kind of environment, where relationship, time together, and enjoyment of nature could take priority.
And that is just what they did, two months before their son was born, they moved to their small cabin and began experiencing life in deeper and more meaningful ways. Life slowed down, their family grew closer, and they lived more intentionally. Small cabin living simplified their life for three reasons. They had less things. They spent less money. Their priorities changed. Small cabin living has a way of calling out what is often so easily missed amid our busy schedules, a call to enjoy the simple things of life.
Enjoy reading more about Megan and her family's journey and passion for small cabin living on her blog, The Cabin Diary.
Creative Space Ideas for Small Cabins
Now that you've seen the power of cabin living and know the goodness it has to offer, be inspired by some creative space saving ideas for small cabin living.
Hide Your Clothes Under the Bed
Usually, the idea of storing clothes under the bed isn't one that goes along with the organization. Namely, when your child discovers that stashing his clothes underneath the bed offers a quick fix for cleaning the room. But, in the light of small cabin living, storing your clothes underneath your bed is an ingenious idea. Naturally, you will want a cozy bed to sleep, so why not invest in a bunkbed and utilize the space left under it. Instead of wasted space with high ceilings above your bed, raise the bed and utilized the space underneath. This should provide enough room to store all your clothes plus more!
Small Cabin Wall Space
Look all around you. Your small cabin walls offer a perfect spot to hang different items, such as pots, shoes, towels, and more! Add wall shelves and make even more space for some kitchen appliances or decorations. With thoughtful planning, your small cabin walls can offer more space efficiency while storing some of your essential household items.
Bathroom Space Saver
Small cabin living doesn't afford for a lot of extra cabinet space, but why not build small shelves around your toilet? Often, the bathroom gets the least amount of space attention since you spend the least amount of your time there, but with this creative space-saving addition, you can store more than you might have imagined! No need to rely on cabinets when you can smartly store your most important bathroom necessities right above and along your bathroom wall. Enjoy the extra space and organization this space-saver idea offers your small cabin's bathroom. And, in order to save additional space, why not put your sink on the back of the toilet, unless that is too close for comfort?
Small Cabin Pantry Space
Small cabin living doesn't guarantee a small appetite. In fact, there is no better place to eat your favorite comfort food than in your own cozy cabin. This slide-out storage drawer pantry is a perfect solution for saving kitchen cabinet space in your little cabin homestead.
Small Cabin Washer Space
No need to leave your washer behind if you go with this nifty space-saving idea. Hide your washer underneath the kitchen counter! No one will ever know! So, whether your small cabin is a vacation getaway or a permanent dwelling, you don't need to give up your washer simply because you have limited space. Sometimes the best space-saving ideas are hiding undercover.
Small Cabin Pull Out Table
Open your living space in your small cabin by investing in a pull-out table that can come out for meals or games and then be stowed away nicely against the wall. This space-efficient table will allow you the joy of gathering for a meal while keeping open space whenever you are gathering around the living room. This pull-out table can also be used as a desk for your computer. Every small cabin needs a table so why not make the most of your space with a retractable table!
Design your small cabin to get started!
Whether you are looking for a small hunting cabin, a vacation retreat, or a new homestead, check out our small cabins at Countryside Sheds and begin your own small cabin living journey!
In-Stock Cabins Ready To Purchase