Standards and Features of Countryside Shed Construction
We live in a world today that is obsessed with producing goods faster and cheaper. Unfortunately, faster does not always mean better, and we have all paid the high cost of replacing cheap products that are not made to last. Even strong and long-lasting brands have succumbed to making products cheaper and shoddier. You and I, the American consumers, pay a high price for all this headless "progress".
When it comes to high quality versus disposable products, storage sheds are certainly no exception. We have all seen the fate of buildings that are not built to last. Rotting walls and foundations, leaking roofs, rodent invasions, and caving buildings all plague the life of a cheap shed. The end result is devastating for you and the valuable contents inside your storage building!
Our Shed Construction Values
If you are like many of our customers, you need more than just a storage shed. You need a structure that is built to meet your exact needs and desires. For over 20 years, we have built and delivered custom sheds, garages and shed kits all throughout Northeast Oregon and Southeast Washington.
At Countryside Sheds, it is not enough for us to simply make a sale. We live and work exclusively in the Wallowa Mountain area, and the people we serve are our friends and neighbors. That is why we measure our success, not at the time of sale, but rather in the satisfaction ratings we receive in the years following. We know we have reached our goals when our customers return for their second and third structures, and we are privileged to have met that goal many times.
Sure, a backyard tool shed is not the Taj Mahal, but when it comes to your outdoor storage shed construction, we know that you want a solid building that was quality built without cutting any corners. Whether for outdoor tool storage or any other kind of storage, you have a right to know what goes into your shed before you buy it. At Countryside Sheds, we not only try to build an exceptional shed, we aim to be transparent about our building standards and shed construction features.
How We Build Sheds at Countryside
In order to understand our shed construction processes and standards here at Countryside, the first thing you should know is that we structurally build our sheds like a contractor builds a house. This is no mere coincidence either. When we began in 1995, we were doing just that – building houses. As time progressed, we realized there was a deficit of small portable building providers in our area, hence the transition to building sheds and garages. We approach this enterprise with a clear understanding of what makes high quality and long-lasting structures, and we apply that expertise to this shed construction field.
To begin with, every structure we produce is formed with fully framed 2×4 construction. There's no skimping on the details here. We space our studs at a fully-standardized 16″ on-center spacing and use double top plates to reinforce the strength in the walls and roof of each structure. We undergird each building with hefty runners made of 4×4 pressure-treated lumber. The floors are made of 3/4″ plywood, which is strong enough to bear the weight of almost any load you may place in our structure.
Shed Construction Options
Options For Your Own Custom Shed or Garage
Customize your building with add-ons that fit your needs! Countryside Sheds can add windows, doors, ramps, roof extensions, and a host of other customization options to your shed construction. If you do not see a feature you are looking for in this list, please give is us a call.
Custom-Sized Building to Fit In a Limited Area – Ideal for small backyards or places hard to fit into.
Match Siding or Design to Existing Building – Make your backyard design flow by matching your outdoor shed colors with your house.
Available Without A Floor (ideal for cement slabs) – Set your shed on concrete pad instead of adding extra floor.
Gable End Roof Extensions – Great for extra rain runoff and more unique custom appearance.
Exterior Shed Construction
Our buildings are typically covered with Roseburg Duratemp textured plywood siding. There are many other siding options available. Trim is installed on all the edges, including the soffit and fascia. Then we carefully calk around all the door, vent, eaves, and all the other important areas to make the structure tight and waterproof.
The making of a tough shed begins with the foundation, and it ends with the roofing. Instead of hoping that an a-frame roof will withstand any snow load, we insist on using full 2×4 trusses to undergird the ceiling. The actual roof sheeting is comprised of 7/16″ plywood, and covered with 30-year architectural shingles, or the roofing material of your choice.
Siding Options
The siding you choose for your custom shed or portable garage makes a huge difference in how your structure looks. We deliver most of our buildings unpainted, but we would also be happy to paint your shed any color that you would like—we'll even match the color of your house.
Door Options
Of course, a building is only as useful as it is accessible, which is why we offer plenty of flexible door options on any of our structures. The standard single and double-door options are our own sturdy proprietary wood design. These doors are available in a variety of sizes and look great, feel sturdy, and are guaranteed to align.
If you're looking for something a bit more formal, we also offer metal and fiberglass insulated doors, with optional 9-lite windows for additional security and light. And if you're wanting a roll-up door for moving larger equipment and supplies, we've got you covered with a variety of sizes. Looking for a really unique combination? We can switch-out door styles between our different shed lines. If needed, we will even frame in an opening to fit a door that you provide.
Make your shed beautiful and accessible with these quality door options:
Window Options
If you are planning on spending time in your structure for projects, or need good visibility for managing your stuff, then good lighting is a must. Our standard windows are tried and true, and come in two sizes. For extra insulation, we also offer double-pane vinyl windows from Cascade Windows. An optional 5×10 transom window can be added to let in more light.
Let the sun shine in your shed or garage with these shed windows.
Attractive Aluminum Windows With Decorative Grids (standard)

18" X 23" Single-Hung Aluminum Window
24" X 27" Single-Hung Aluminum Window

Double-Pane Vinyl Windows by Cascade Windows

24" X 24" Double-Pane Vinyl Window
36" X 24" Double-Pane Vinyl Window
36" X 36" Double-Pane Vinyl Window
10″ X 5′ Transom Window
Round Windows
Skylights And More
Flooring Options
Insulated Floors
Reinforced Flooring
Additional Floor Runners
Pressure-Treated Flooring
No Floor (ideal for cement slabs or pump houses)
Porches, Decks, and Railings
For a really classy look and feel, you can add a porch to your building, with or without a railing.
Full or Half Porches
Gable End or Eave Side
Available In Rustic, Stain-Grade, Or Paint-Grade Material
Shed Construction Accessories
Make your shed construction unique and stylish with some of these added accessories.
Construction Types
We know that each individual is different, and so is every property. We desire to create solutions which fit perfectly for each of our customers, and because of this, we have several different construction and delivery options available.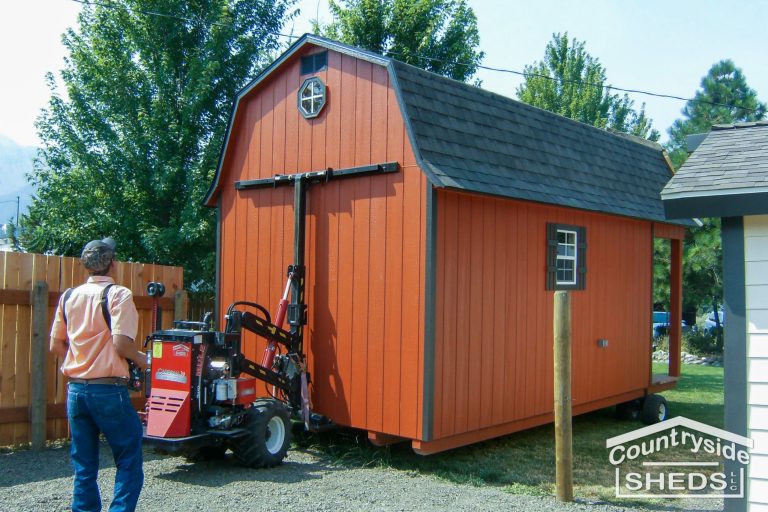 Prebuilt and Delivered
The majority of the sheds we build are assembled in our shop in Island City Oregon, and then distributed through our dealers or delivered directly to our customers.
This process allows us to build a top-notch structure very efficiently, and you enjoy the benefits without the mess when we drop the shed on your property.
Shed Kits
If you know you need quality but would love to offset some of the cost by doing some of the work yourself, then a storage shed kit is an obvious solution. Because of the popular demand from some of our most ardent customers, we've invested heavily in making the shed kit package you can find almost anywhere.
Not only are all the materials pre-cut and organized, but we've also made a detailed how-to manual to guide you through the assembly of your shed. You can save money and enjoy a building project while knowing that you're working with the best process and materials possible.
Built on Site
Some properties are too remote or confined for a shed delivery. That shouldn't restrict you from getting the structure you need. We can handle on-site construction if that's what you need.
Because we build the majority of the building in the shop but transport and assemble it on your property, our on-site construction is a very efficient option for those who need it. We'll even come and evaluate your property if you fear that a shed delivery is unfeasible for you.
Questions and Answers
Will my riding lawnmower or 4-wheeler fit through your standard door?
Usually not. Even though our standard custom door is an extra-wide 43″, it is recommended to upgrade to at least a 5′ double door (6′ is also available) or a roll-up style door. A ramp will be needed also, as the floor is around 7–8″ from the ground. We offer these as options. Call for pricing.
Does the building come painted?
No. However, each building does come factory primed and caulked along the vital areas (around the door, vents, eaves, etc.) and is ready to paint. We use DURATEMP© plywood siding that comes pre-primed with exterior latex primer. The manufacturer recommends a quality topcoat of exterior paint be applied. Do not use vinyl acrylic exterior paint.
We offer custom painting as an upgrade option on every building—using professional paint sprayers and brushes. We can custom match paint to almost everything. Please let us know at the time you place your order for a price quote. Some stock buildings may be painted already.
How tall are the buildings?
Measurements listed are taken from the top of the ridge cap of the roof to the bottom of the floor runners sitting on the ground. Your final height depends on the elevation of the blocks used on the runners.
Gable/Garage Style:
8′ wide= 9′ 9″ tall
10′ wide= 10′ 10″ tall (11′ 10″ with a 7/12 pitch roof)
12′ wide= 11′ 4″ tall
14′ wide = 11′ 8″ tall
Quaker Style:
8′ wide = 9′ 4″ tall
10′ wide = 9′ 11″ tall
Mini-Barn Style:
8′ wide = 8′ 6″ tall
10′ wide = 9′8″ tall
Tall Barn Style:
10′ wide = 12′ 3″ tall
12′ wide = 13′ 4″ tall
How much do the buildings weigh?
This varies by a number of factors. But a few sizes are listed below for a "ball park″ reference:
8′ × 10′ Gable = 1700 pounds
8′ × 12′ Gable = 1800 pounds
10′ × 12′ Gable = 2425 pounds
10′ × 16′ Gable = 2950 pounds
10′ × 16′ Garage = 3850 pounds
10′ × 16′ Tall Barn = 3900 pounds
10′ × 20′ Garage = 3780 pounds
12′ × 20′ Garage = 4420 pounds
12′ × 24′ Quaker = 5480 pounds
12′ × 24′ Tall Barn = 6000 pounds
Get a Quality, Featureful Outdoor Tool Shed
There's no reason to confine yourself to a narrow pattern when it comes to your own custom outdoor tool storage shed. With all sorts of standard and custom options already in hand, the possible combinations are virtually limitless for your unique shed construction. This page contains a few of the features and options, but there's more. Get in touch to see what we can do for you!