The Western Barn Tool Shed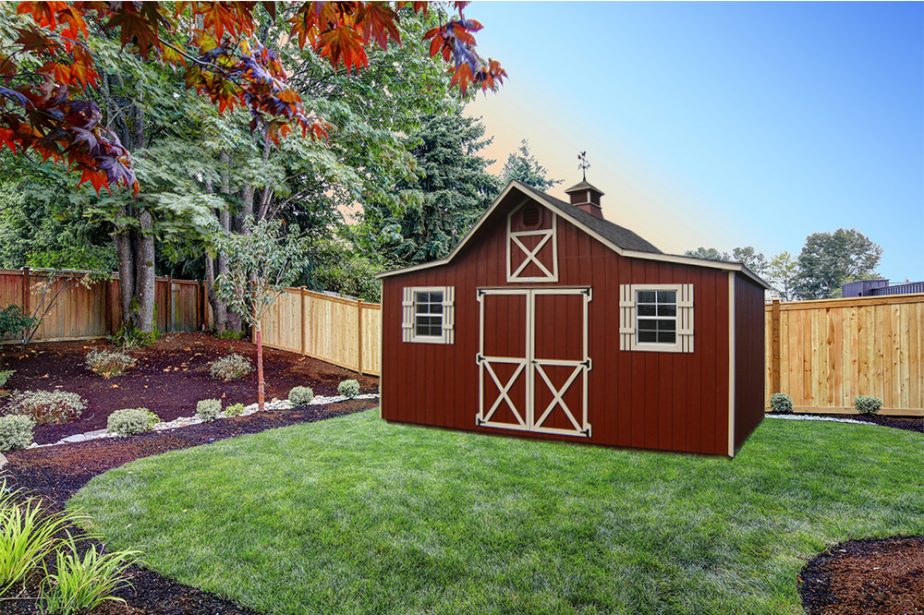 Backyard Shed Barns with a Unique Western Touch
Features of the Western Barn Tool Shed
Traditional Country-Style Roof
Sizes from 8′ × 16′ to 14′ × 24′
A Tool Shed to make your Backyard Proud
The Western Barn "country-style" tool shed isn't an ordinary garden shed. It's a gesture towards the strength and bravery exhibited by centuries of rich history in the American West. With a broadside and roof peak not unlike the Wallowa Mountains that shadow it's birthplace, this is one beautiful storage shed.
Features of all our Storage Buildings
Full 2×4″ Construction
16″ O.C. Stud Spacing, Double Top Plates
Sturdy 4×4″ Pressure-Treated Runners
All Plywood Interior: Solid 3/4″ Flooring, 7/16″ Roof Sheeting
15/32″ Roseburg Duratemp Textured Plywood Siding
Full 2×4″ Trusses
30-Year Architectural Shingles (Other Roofing Options Available)
Screened Gable Vents
Self-Latching Hand-Crafted 43″ Wide Door
Soffit And Fascia Trim
Primed And Caulked
Pre-Built Ready To Use!
Common Upgrades for the Tall Barn
Flower Boxes & Shutters
Gambrel Roof Extension
5′ or 6′ Double Doors
"Amish" Overhang
18×23″ Windows
Custom Paint
Metal Roof
Questions and Answers
I'm looking for something a bit different. Can you change the design of your buildings?
Usually. All buildings usually fall under a general style. We can add porches, decks, lofts, open-framed trusses (vaulted ceilings). Call for more details and examples.
I need a special size to fit in my backyard, but I don't see it on your price list. Can I have a custom size built?
Usually. We have to price it for the next common size up due to the inefficiency of material usage. Some may require a small surcharge. Call for details. The price list only shows the common sizes due to space. However, we offer most of our buildings in all common sizes (i.e., 10′ × 10′, 12′ wide × 10′ deep, etc.)
Do you offer any financing options?
Yes we offer flexible financing options, including rent to own and 90 days same as cash. For more info, check out our financing page.
What type of payments do you accept?
We accept Cash, Check, Visa & MasterCard. (Note 3% finance charge applies to all Credit Card purchases.)
How do you deliver a prefab barn?
Your prefab barn shed will be delivered completely assembled and ready to use. We use a Straight-cab size truck and a specially built 24' long tilt-bed trailer. If there isn't room for the truck and trailer, we always carry a shed-mover on our truck. We would then unload the building in your driveway and use the much smaller motorized shed mover to push or pull the building into your backyard.
It that still won't work, then perhaps you need either a storage shed kit to build yourself, or an on-site construction project. If you are unsure about space restrictions, let us know and when we are in the area the next time we can stop and look at the site.
Expose your Western Spirit in your Backyard Shed
If you're looking to buy a tool shed that doesn't skimp in structure or style, this beautiful western barn design may be just for you. You can see our outdoor storage shed designs up close in person at any one of our sales lots across Northern Oregon and Southern Washington. If you're thinking of sinking your teeth in, then use our online quote builder to request custom pricing for the exact size and options you need.