Portable Buildings in Hermiston, WA
Are you on the lookout for high-quality portable buildings in Hermiston, Oregon? Whether you are looking for a portable garage, a shed, a greenhouse, a livestock shelter, or a stock shed, you can rest assured that including a portable building from Countryside Sheds into your sweet Hermiston life will only enhance its sweetest!
Countryside Sheds cuts no corners in any of its productions, and with over 25 years of experience, skillfully craft portable buildings to last you a lifetime!
Photo Credit: ShutterBug
It is no surprise that Hermiston, Oregon is coined, "Where life is sweet!" It is also no secret to you why your charming city deserves such a motto, with its statewide famous Hermiston watermelons, idyllic Hat Rock State Park, and tastebud pleasing Bellinger Farms. All this combined with the benefits of a decent-sized city yet keeping the closeness of a small town, is nothing short of sweet. It goes without saying, Hermiston, Oregon, rocks friendliness!
Now all that is missing from your sweet Hermiston backyard is a quality portable building! Read on to discover your ideal portable building and enjoy the Countryside Shed guarantee of nothing short of sweet quality!
Discover Your Ideal Quality Portable Building!
Get a good look at the following sheds from Countryside Sheds! Keep in mind that we deliver custom buildings as well as various customization options for each of the following models!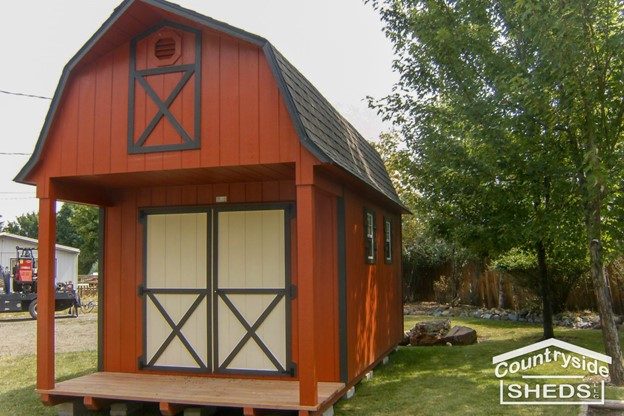 Do you wish for resilient storage, a space for a special hobby, or a trustworthy place to keep your garden tools? If so, we offer 7 different shed styles to choose from! Whether you wish to custom build your very own or purchase a ready-to-go shed from a storage shed lot near you, you will be sure to find a shed that meets and exceeds your expectations.
Imagine parking your snazzy car in a tasteful and protective space of its own. Say adios to weathering damage! Or, how about this!? Can you imagine yourself in a workshop of your own? Whether you wish for a garage for car protection or a workspace to unleash your skills, our garages provide you with a durable, economical, and attractive solution!
Has growing food in your backyard captivated your interest? Perhaps your love for all things green gets tampered with once winter hits the scene. Whether you own an insatiable green thumb or an interest in growing veggies and plants all year, our greenhouses offer you the ideal spot to achieve gardening success!
Have you spoiled your pets lately? If not, consider upgrading your loyal pooch's abode with an attractive and weather-tight dog kennel, or new a loafing shed for your stunning horse. Considering raising backyard fresh eggs? Our chicken houses offer your chickens an efficient and attractive nest of their very own!
Our stock sheds provide you with a quick solution for your storage needs. These sheds are quality made and all ready to go! Prebuilt, yet every inch as quality built as any custom-made shed. Plus, if you are looking for a deal, our stock sheds are where it is at!
Hear Our Customers' Share About Their Experience with Countryside Sheds
"Customer service was great. The initial site visit was done very professionally. Communication throughout the process was excellent. Delivery was amazing as the shed had to be situated next to another shed. It was very precise and leveling was done as needed to have a great final product."
LQuaempts
Hermiston, Oregon
December 30, 2020
Directions for Countryside Sheds
From: Hermiston, Oregon
To: Island City, Oregon 97850
Head west on US-395 toward I-84 East. Drive on I-84 towards Island City. Then take exit 261 for OR-82 (Wallowa Lake Hwy) toward La Grande/Elgin. Then turn right onto OR-82 E/Island Ave (By Denny's) and keep driving straight on Wallowa Lake Hwy and you will arrive at our main sales lot location; Island City, Oregon 97850. Welcome!
Partner with Countryside Sheds Today!
Making a big financial decision like investing in a new shed, garage, greenhouse, etc. can feel weighty. At Countryside Sheds, we understand the significance of investing your hard-earned money into a big purchase and we prioritize building you a portable building that is worth every cent.
Allow us the privilege of partnering with you for your new portable building in Hermiston, Oregon!
Your complete satisfaction is our top motivation!