The Gable Wood Storage Shed
If you want a straight forward wood shed that checks all the boxes without cutting any corners, this A-Frame shed is likely what you need.
Features of the Gable Wood Shed:
Conventional A-Frame w/Minimal Overhang
Sizes From 8′ × 8′ To 14′ × 28′
Extra-Wide 43″ Door
Black Hardware
Storage
Of course, like a lot of sheds, this wood shed is popular for its storage capability. Whether you use it for garden tools, lawn mowers, or your bikes, this gable wood shed is a quality shed you can use to increase your storage space. With a variety of sizes, you can make this shed as large or as small as you like. These gable wood sheds are built with quality materials and craftsmanship so you can rest assured that your possessions will be safe for years to come.
Storage Equipment Ideas:
Lawn Mower
Sport Equipment
Conventional Design
Each of our portable sheds are built with quality in mind. The gable wood shed is one of our most practical and economical sheds. The straight forward a-frame design makes this one of our most simple yet popular designs. Also, each wood shed can be customized to fit your needs. Whether you need different windows, doors, or roofing materials, you can customize your portable shed to fit your storage and backyard space.
Customizable Wood Shed Ideas:
Overhead Garage Doors
Round Windows
Skylights
Full Porch
Half Porch
Unique Feel/Appearance
The style of these gable wood sheds is unlike any of our other designs. Inspired by the local Wallowa Mountains, these wood sheds reflect the beauty and character of the surrounding mountains. Spice up any backyard space with a simple, unique gable wood shed that will store your personal belongings for years to come.
Unique Features to Add:
Flower Boxes
Window Shutters
Exterior Ramps
Cupolas
Weather Vane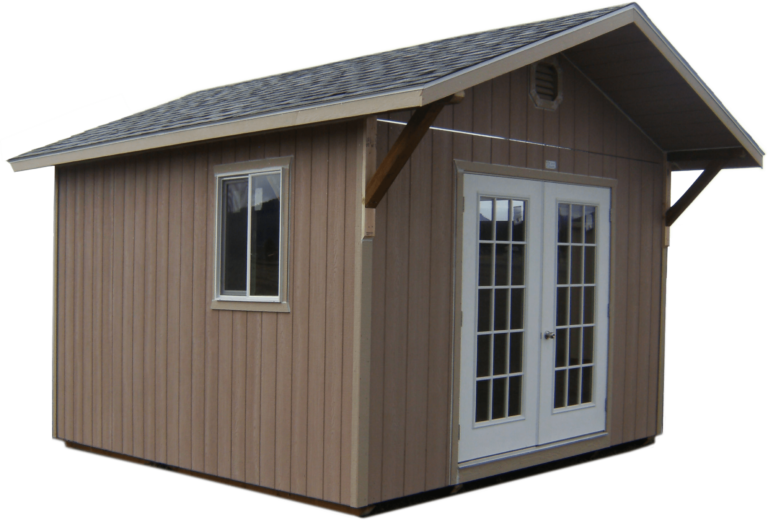 A Wood Shed Built for Life
Our most economical shed is popular for good reason. Inspired by the character of the Wallowa Mountains under who's shadow these structures are born and breathe, we build these wood storage sheds to last a lifetime.
Not only that, there's more to this garden shed offering than meets the eye. The Gable shed is available in many different sizes and with a huge array of options. Providing flexible and formidable storage, prepare yourself for a new standard of quality in a wood sheds.
Interested in a different style shed? We've got you covered! Check out our full array of outdoor storage shed styles such as lean to, mini barn, and western sheds.
Features of All Our Storage Buildings
Full 2×4″ Construction
16″ O.C. Stud Spacing, Double Top Plates
Sturdy 4×4″ Pressure-Treated Runners
All Plywood Interior: Solid 3/4″ Flooring, 7/16″ Roof Sheeting
15/32″ Roseburg Duratemp Textured Plywood Siding
Full 2×4″ Trusses
30-Year Architectural Shingles (Other Roofing Options Available)
Screened Gable Vents
Self-Latching Hand-Crafted 43″ Wide Door
Soffit And Fascia Trim
Primed And Caulked
Pre-Built Ready To Use!
Common Upgrades for the Gable Shed
5′ or 6′ Double Door
Rollup Or Insulated Doors
18×23″ Windows
Side or End Porch
Metal Roof
Custom Paint
Questions and Answers
What is the weight of a Gable Wood Shed?
The weight of our wood sheds varies depending on the options chosen, but a here's a "ball park" reference:
8′ × 10′ Gable = 1700 pounds
8′ × 12′ Gable = 1800 pounds
10′ × 12′ Gable = 2425 pounds
10′ × 16′ Gable = 2950 pounds
How tall is the Gable Wood Storage Shed?
Measurements listed are taken from the top of the ridge cap of the roof to the bottom of the floor runners sitting on the ground. These heights don't include the elevation of the blocks used on the runners.
8′ wide = 9′ 9″ tall
10′ wide = 10′ 10″ tall
12′ wide = 11′ 4″ tall
14′ wide = 11′ 8″ tall
Will my riding lawnmower or 4-wheeler fit through your standard door?
Usually not. Even though our standard custom door is an extra-wide 43″, it is recommended to upgrade to at least a 5′ double door (6′ is also available) or a roll-up style door. A ramp will be needed also, as the floor is around 7-8″ from the ground. We offer these as options. Call for pricing