If you're like many of our customers, you need more than just a storage shed. You need a structure that's built to meet your exact needs and desires. Fortunately, you're in good company with Countryside. For over 20 years, we've built and delivered custom sheds, garages and shed kits all throughout Northeast Oregon and Southeast Washington.
Options for your own Custom Shed or Garage
Customize your building with add-ons that fit your needs! Countryside Sheds can add windows, doors, ramps, roof extensions, and a host of other customization options to your shed. If you don't see a feature you're looking for in this list, please give is us a call.
Gable End Roof Extensions
For a unique custom look and extra rain runoff protection, we can extend the roof line at each gable end of your shed or garage. For even more protection and special looks, we can extend the overall overhang of your roof, up to 11" (including eaves).
Door Styles
A door doesn't just change the look and feel of a shed. The right door can make the difference between getting your equipment in and out successfully. Here are the doors available as options on our sheds:
Looking for a really unique combination? We can switch-out door styles between our different shed lines. If needed, we'll even frame in an opening to fit a door that you provide.
Windows and Skylights
Let the sun shine in your shed or garage with these shed windows.
Attractive Aluminum Windows With Decorative Grids (standard)

18" X 23" Single-Hung Aluminum Window
24" X 27" Single-Hung Aluminum Window

Double-Pane Vinyl Windows by Cascade Windows (made in Oregon!)

24" X 24" Double-Pane Vinyl Window
36" X 24" Double-Pane Vinyl Window
36" X 36" Double-Pane Vinyl Window
Round Windows
Skylights And More
Siding Options
The siding your choose for your custom shed or garage makes a huge difference in how your structure looks. We ship most of our buildings unpainted, but are can make that shed any color you'd like—we'll even match the color of your house.
Porches, Decks, and Railing
For a really comfortable and classy look and feel, you can add a porch to your building, with or without a railing.
Full or Half Porches
Gable End or Eave Side
Available In Rustic, Redwood, Or Paint-Grade Material
Flooring Options
Insulated Floors
Reinforced Flooring
Additional Floor Runners
Pressure-Treated Flooring
No Floor (ideal for cement slabs or pump houses)
Accessories
Make the shed of your dreams with extra bling or just a few unique features.
Framing Options
Inside corner framing (recommended if you are sheeting the inside)
16" on-center stud spacing (includes 2nd top plates)
Flat bottom cords on trusses (great if you are going to finish the inside ceiling)
Custom Projects
Custom-Sized Building to Fit In a Limited Area
Match Siding or Design to Existing Building
Available Without A Floor (ideal for cement slabs)
Construction Type
We know that each individual is different, and so is every property. We desire to create solutions which fit perfectly for each of our customers, and because of this, we have several different construction and delivery options available.
Prebuilt and Delivered
The majority of the sheds we build are assembled in our shop in Island City Oregon, and then distributed through our dealers or delivered directly to our customers.
This process allows us to build a top-notch structure very efficiently, and you enjoy the benefits without the mess when we drop the shed on your property.
Shed Kits
If you know you need quality but would love to offset some of the cost by doing some of the work yourself, then a storage shed kit is an obvious solution. Because of the popular demand from some of our most ardent customers, we've invested heavily in making the shed kit package you can find almost anywhere.
Not only are all the materials pre-cut and organized, but we've also made a detailed how-to manual to guide you through the assembly of your shed. You can save money and enjoy a building project while knowing that you're working with the best process and materials possible.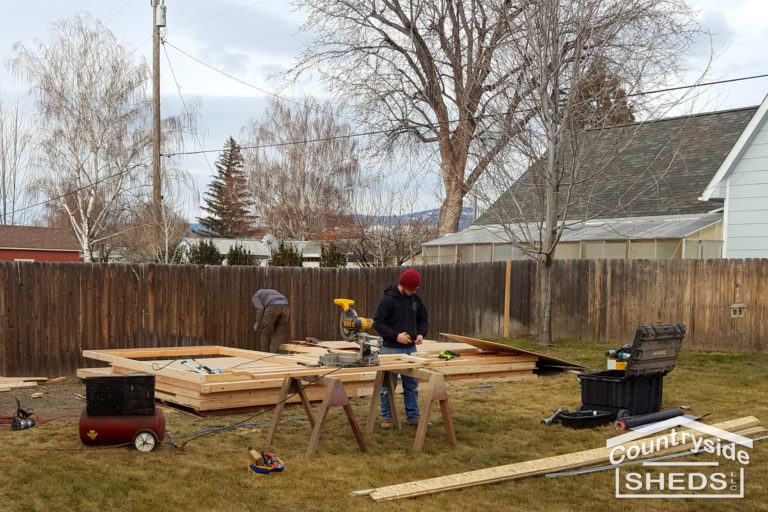 Built on Site
Some properties are too remote or confined for a shed delivery. That shouldn't restrict you from getting the structure you need. We can handle on-site construction if that's what you need.
Because we build the majority of the building in the shop but transport and assemble it on your property, our on-site construction is a very efficient option for those who need it. We'll even come and evaluate your property if you fear that a shed delivery is unfeasible for you.
Choose your shed options, then order your custom shed or garage.
Now that you see what's possible, we hope you feel prepared to choose the options you want on your own shed. When you're ready to get pricing or place that order, give us a call or request a free quote online.